Fuji Electric Corp. of America is a wholly owned subsidiary of Fuji Electric Co., Ltd., and has been responsible for sales and distribution of the company's products since 1970.  Fuji Electric Co., Ltd. began developing power electronics equipment in 1923, and is a global leader in industrial products such as IGBT Power modules, High Power IGBT modules, Intelligent Power Modules, SiC devices (Hybrid & Full SiC), Discrete Rectifier Diodes, Discrete MOSFET & IGBT devices. Across the industrial and new energy fields, Fuji Electric contributes to high levels of efficiency and energy savings by supplying power semiconductors, which are key devices in power electronics.
IGBT Modules
10A-3600A 600V-3300V several topologies and packages
Fuji Electric's IGBT Modules (or insulated-gate bipolar transistors) are a high-performance 7th generation IGBT/FWD chipset with a compact design that provides for greater power output. It has environmentally friendly modules with easy assemblage, solder-free options, and RoHS compliance. The IGBT inverter turn-on switching characteristics include: improved noise-loss trade-off, reduced turn-on dv/dt, and excellent turn-on dic/dt. Turn-off switching characteristics include: soft switching behavior and turn-off oscillation free.
Gen 6 and Gen 7 X series now available
GEN 7 Reduces power dissipation, Achieves equipment size reduction, Contributes to improving equipment reliability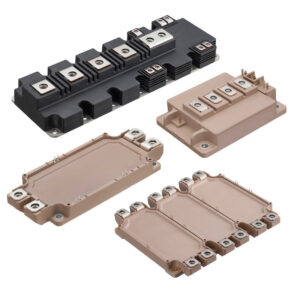 IPMs
600-1200V, 15A-400A
IPMs come equipped with control IC possessing IGBT drive circuits and protection circuits, and therefore, it is easy to design peripheral circuits and possible to ensure high system reliability.
It is suitable for applications such as those utilizing AC servos, air conditioning equipment, and elevators.
Small capacity IPM with a product line-up ranging from 15A to 30A/600V and V-IPM covering a capacity of up to 400A/600V and 200A/1200V are available.
The IPMs come equipped with overcurrent protection, short circuit protection, control power voltage drop protection, and overheating protection, while also outputting alarm signals.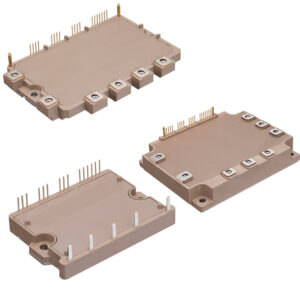 SiC Diodes
Hybrid (SiC SBD) 600-1700V, 35A-1200A
SiC devices have excellent characteristics that realize high blocking voltage, low power dissipation, high-frequency operation and high-temperature operation. Power semiconductors that make use of SiC achieve significant reduction in energy consumption, and can be used to develop smaller and lighter products.
Super Junction MOSFETs
30-900V, 1A-100A
Fuji Electric offers a high performance and easy-to-use, easy-to-design planer type power MOSFET achieved by the 2nd generation "Quasi-Plane-Junction" technology. It maintains both low power loss and noise, lower RDS(on) characteristics, more controllable switching dv/dt by gate resistance, smaller VGS ringing waveform during switching, narrow band of the gate threshold voltage, and high avalanche durability.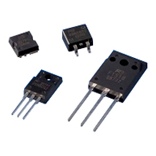 Fuji Electric Products