Kendeil Group is one of the leading producers of power electronic capacitors for high-power inverter applications, including industrial motor drives, UPS, and battery chargers. They are known for their proven long life and  highly reliable electrolytic snap and screw type capacitors, and also produce DC Link film capacitors for low and medium/high frequencies.

Kendeil is also one of the only manufacturers that make a 600V electrolytic in a screw terminal package. These products are made with automated equipment, integrated technologies and advanced production processes, which are regularly updated to meet the highest international standards in performances and quality.
Benefits Include:
Electrolytic Capacitors:
40 years of experience in manufacturing high quality Screw terminal and snap type aluminum electrolytic capacitors & DC Link Film capacitors for low and medium/high frequencies.
Long life for 85°C & 105°C Snap and Screw terminal electrolytic capacitors
20,000 hours at rated conditions
600V screw terminal electrolytic capacitors available, 1500-6800uF
Fully vertically integrated
Custom designs
Advanced software models to provide fast, accurate life predictions for any given operating condition
Short delivery time, typically 3-5 weeks
Satma, an etching facility, is solely owned by Kendeil. Having the etching capability for anode foil gives Kendeil the ability to control the complete process of manufacturing these capacitors. In return, the customer receives a cost effective, long life and exceptionally reliable product.
Film Capacitors:
D.C Power Film Capacitors with slope metallization. 100000 hours at 85°, capacitance values from 24 to 2.000 μf and voltages from 600 to 5000 Vdc.
Kendeil is vertically integrated, as one of the few producers of electrolytics with etching capability for anode foil. This gives them the ability to control the complete manufacturing process. Having their own foil production not only makes for a more reliable part, it also helps minimize cost- the foil is some 70% of the production cost of a typical electrolytic, and guarantees material supply in times of high demand.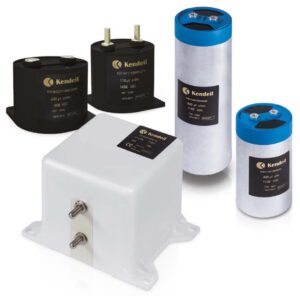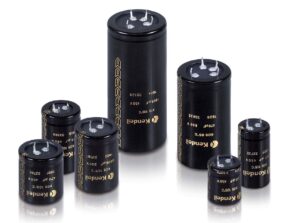 The Kendeil product offering can be found under the Resources & Support tab.