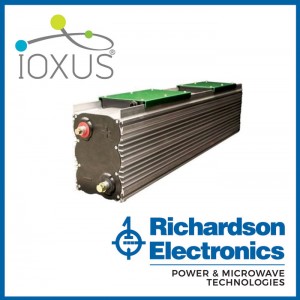 Family of 22 advanced modules for ultracapacitor applications
LaFox, IL, Monday, March 21, 2016 – Richardson Electronics, Ltd. (NASDAQ: RELL) announced today the availability of the complete family of iMOD X-Series™ modules for ultracapacitor applications from Ioxus.
The iMOD X-Series modules have a wide voltage range, can deliver and absorb a high current, operate from -40⁰C to +85⁰C and have a long life cycle. They are designed to hold multiple, individually balanced TitanHT™ cells to attain any voltage and capacitance requirement in the most efficient way possible.
The 22 high performance modules range from 16V to 128V and can be connected in series up to 2000V with no additional balancing required. They may also be connected in parallel to satisfy higher energy requirements. The industry-leading flexibility of Ioxus X-Series modules allow for hundreds of thousands of charge/discharge cycles with minimum changes in performance over the life cycle of the products.
The iMOD X-Series can be used to satisfy demands in a variety of industries and applications, including hybrid and PHEV buses, wind turbine pitch control, micro-grid, excavators, cranes, vehicle starting systems, automotive subsystems, backup power/UPS, ride-through power conditioning, robotics and renewable energy systems.
Additional key features of the Ioxus iMOD X-Series modules include:
22 base modules ranging in voltage from 16V to 128V
Operating temp -40⁰C to +85⁰C
Most rugged construction: IP67 / IEC61373 (Rail)
Configure in series to 2000V / Hi-Pot tested to 5000V
UL810A / ISO16750 / SAE J2380 / IEC 60068, 60529, 61373
Easily mounted in standard industrial enclosures using COTS parts
Oversized forward facing power terminals
Optional digital, analog or CAN Bus communications and monitoring
"These iMOD X-Series modules are game changers in terms of simplifying system design and installation for the end user," said Chris Marshall, Chief Technology Officer of Richardson Electronics' Power & Microwave Technologies group. "By offering customers this level of flexibility, performance and durability, with a nearly-infinite array of possible mounting configurations, Ioxus is proving again why it is a leader in ultracapacitor technology."
To find more information, please visit the Ioxus storefront at www.rellpower.com. The devices are also available by calling 1-800-348-5580, emailing [email protected], or visiting Local Sales Support to locate worldwide sales engineers.
About Richardson Electronics, Ltd.
For nearly 70 years, Richardson Electronics has been your industry-leading global provider of engineered solutions, RF & microwave and power products. With the launch of the Power & Microwave Technologies group, we continue this legacy and complement it with new products from the world's most innovative technology partners. Richardson Electronics' Power & Microwave Technologies group focuses on what we do best: identify and design disruptive technologies, introduce new products on a global basis, develop solutions for our customers, and provide exceptional worldwide support. As a global company, we provide solutions and add value through design-in support, systems integration, prototype design and manufacturing, testing, logistics, and aftermarket technical service and repair—all through our existing global infrastructure. More information is available at www.rellpower.com.
Richardson Electronics common stock trades on the NASDAQ Global Select Market under the ticker symbol RELL.