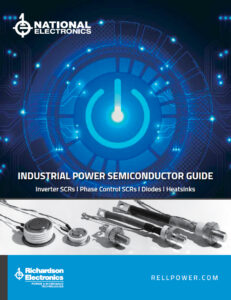 Industrial power semiconductor guide includes inverter SCRs, phase control SCRs, diodes and heatsinks
LaFox, IL, Wednesday, May 25, 2016 – Richardson Electronics, Ltd. (NASDAQ: RELL) announced today the publication of an updated product selection guide for its National brand of industrial power semiconductors.
The new guide offers extensive performance specifications and reference drawings for National's portfolio of inverter SCRs, phase control SCRs, diodes, heatsinks and other products, with comparative data tables that simplify design and purchase decisions.
Richardson Electronics' National brand leverages the Company's expertise and experience with bipolar components, including SCR and rectifier discretes and modules, as well as passive components. Founded in 1947, Richardson Electronics is a global channel partner for world-class electron devices, power electronics, and RF and microwave components.
The new National product selection guide is available online as a downloadable pdf file. Printed copies are available by request.
About Richardson Electronics, Ltd.
For nearly 70 years, Richardson Electronics has been your industry-leading global provider of engineered solutions, RF & microwave and power products. With the launch of the Power & Microwave Technologies group, we continue this legacy and complement it with new products from the world's most innovative technology partners. Richardson Electronics' Power & Microwave Technologies group focuses on what we do best: identify and design disruptive technologies, introduce new products on a global basis, develop solutions for our customers, and provide exceptional worldwide support. As a global company, we provide solutions and add value through design-in support, systems integration, prototype design and manufacturing, testing, logistics, and aftermarket technical service and repair—all through our existing global infrastructure. More information is available at www.rellpower.com.
Richardson Electronics common stock trades on the NASDAQ Global Select Market under the ticker symbol RELL.