Includes two new ICs for single-beam Rx and Tx
LaFox, IL, Thursday, January 28, 2016 – Richardson Electronics, Ltd. (NASDAQ: RELL) announced today the availability of the expanded portfolio of core ICs for commercial AESAs from Anokiwave, Inc.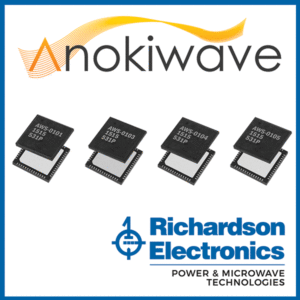 Anokiwave has added two new devices to complete its family of X-band AESA core IC solutions for commercial radar and 5G communications markets. Each IC architecture in the family includes an integrated 4-channel beamformer, LNA and PA supporting 4 radiating elements. The ICs feature either a low noise figure or a high input linearity, and they are further divided by dual beam Rx/single beam Tx, or single beam Rx/single beam Tx.
The new AWS-0104 is a single beam Rx, single beam Tx IC with low noise figure, providing 21 dB gain during transmit mode, 21 dB gain in receive mode, +15 dBm output power during transmit, and 3.4 dB NF during receive.
The new AWS-0105 is a single beam Rx, single beam Tx IC with high input linearity. It provides 21 dB gain and +15 dBm output power during transmit mode, and 7 dB gain and +7 dBm IIP3 during receive mode.
Previously released X-band AESA core IC solutions include the AWS-0101, featuring a low noise figure, dual beam Rx, and single beam Tx, and the AWS-0103, featuring high input linearity, dual beam Rx, and single beam Tx.
Additional features of the entire product family include 6-bit phase and 6-bit gain control with either a low noise figure or high input linearity in Rx mode, gain compensation over temperature, temperature reporting, and fast beam switching using eight on-chip beam weight storage registers.
The devices offer ESD protection on all pins, operation from +1.8 V, and 56-lead 7×7 mm PQFN packages for easy installation in planar phased array antennas.
"Anokiwave continues to set the mark for commercial AESA innovation," said Chris Marshall, CTO and VP Marketing of Richardson Electronics' Power & Microwave Technologies group. "We look forward to supporting Anokiwave's efforts to enable commercial AESAs as the future of radar and 5G systems."
To find more information, please visit the Anokiwave storefront at www.rellpower.com. The devices are also available by calling 1-800-348-5580, emailing [email protected], or visiting Local Sales Support to locate worldwide sales engineers. Playback of an Anokiwave webinar, "Highly Integrated Silicon ICs – A Disruptive Technology for Phased Arrays," is also available online until March 30, 2016.
About Richardson Electronics, Ltd.
Richardson Electronics, Ltd. is a leading global provider of engineered solutions, power grid and microwave tubes and related consumables; power conversion and RF and microwave components; high value displays, flat panel detector solutions and replacement parts for diagnostic imaging equipment; and customized display solutions. We serve customers in the alternative energy, healthcare, aviation, broadcast, communications, industrial, marine, medical, military, scientific and semiconductor markets. The Company's strategy is to provide specialized technical expertise and "engineered solutions" based on our core engineering and manufacturing capabilities. The Company provides solutions and adds value through design-in support, systems integration, prototype design and manufacturing, testing, logistics, and aftermarket technical service and repair through its global infrastructure. More information is available at www.rellpower.com.
Richardson Electronics common stock trades on the NASDAQ Global Select Market under the ticker symbol RELL.