UnitedSiC Generation 3 SiC FETs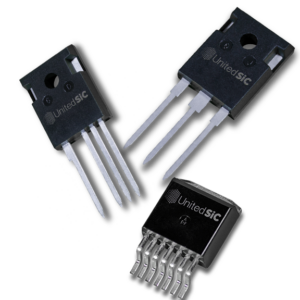 The 3rd generation 650V and 1200V SiC FETs from UnitedSiC deliver excellent switching speed, fast body diode, high temperature operation, low RDS(ON) and ruggedness that make them outstanding solutions for all switching circuit topologies.  These devices are 'drop-in' replacements for IGBT, Si-MOSFET, Super Junction MOSFET and SiC-MOSFET parts, and do not require changes to gate drive circuitry. Unique to these high performance packages are the 4-Lead Kelvin package which provides designers with very fast switching, high-power semiconductors in a package capable of high-power dissipation.
UnitedSiC FETs are:
Co-packaged high-performance Gen3 SiC JFETs with cascode optimized MOSFET
Only standard gate drive SiC device in the market today
Why the UJ3C & UF3C Series?
Key Features
Excellent body diode performance (Vf < 2V)
Drive with any Si and/or SiC gate drive voltage
High performance cascode configuration
Superior thermal performance
Integrated ESD and gate protection
Kelvin package (UF3C Fast series)
Drop-in Functionality without Changing Gate Drive Voltage
(Replaces Si IGBTs, Si FETs, Super junction FETs and SiC MOSFETs
End Applications
Electric Vehicles
Battery Chargers
Telecom & Server PSU
Solar inverters
Energy storage
Motor drives
UnitedSiC's Vice President of Engineering Anup Bhalla Discusses New Devices
Available Package Types
DFN 8×8
TO220-2L
Diodes
TO-220-3L
FETs
TO-247-2L
Diodes
TO-247-3L
Diodes
FETs
JFETs
TO-247-4L
FETs
D2PAK-3L
FETs
D2PAK-7L
FETs