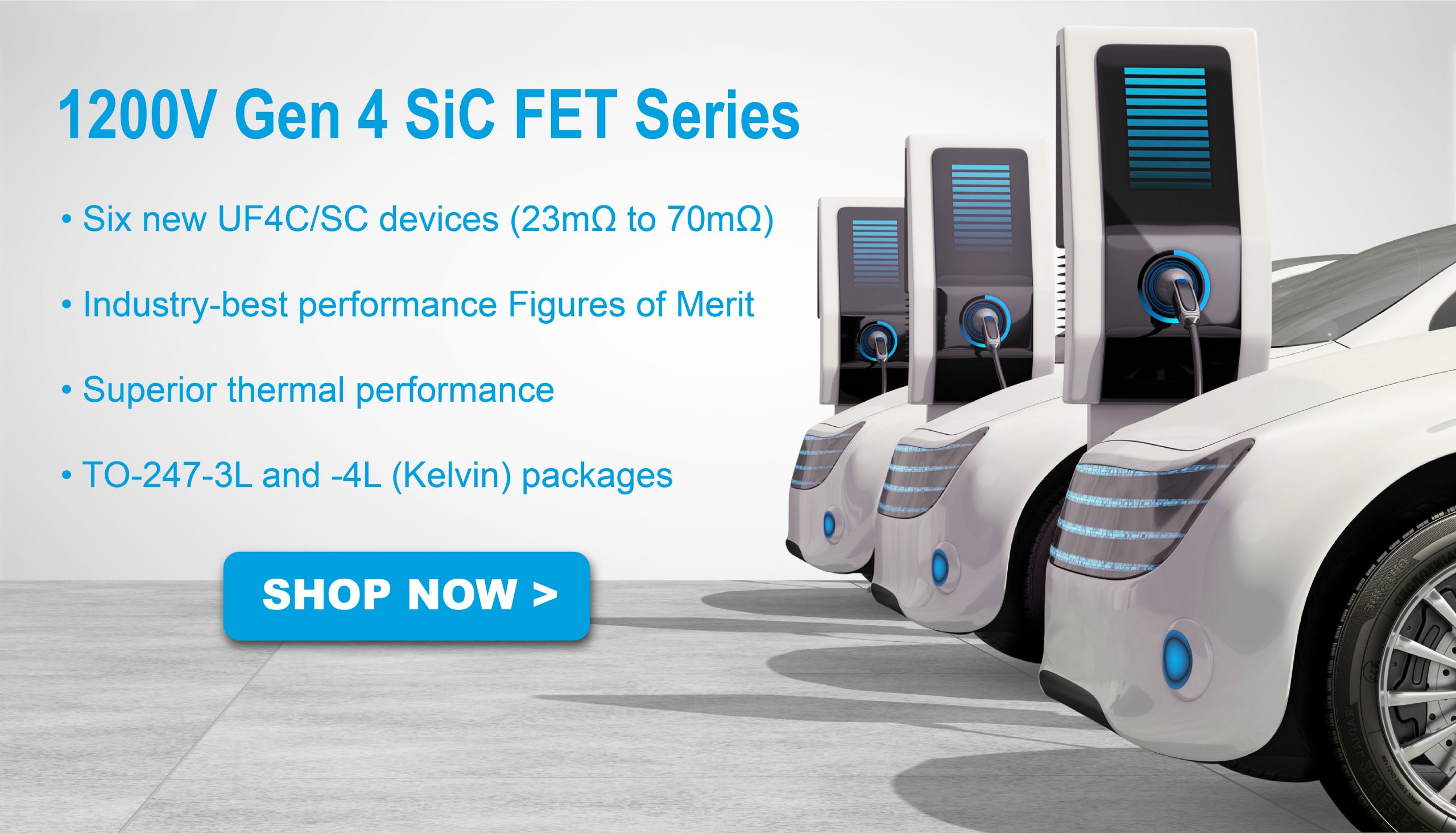 UnitedSiC (now Qorvo) strives to drive the acceleration of SiC adoption using its innovative device technology, enabling their customers to deliver industry-transforming levels of power efficiency to society's most advanced applications, particularly in mobility, charging, IT infrastructure, and renewable energy.
Their technology provides power customers with the easiest path to upgrade their legacy power designs or obtain the highest power densities in their new designs with minimal effort. The recent addition of the new Generation 4 SiC FET UJ4C/SC and UF4C/SC series delivers a new 750V and 1200V drain-to-source voltage levels while significantly elevating performance and efficiency levels, based on leadership Figures of Merit, to meet the needs of next-generation power designs. UnitedSiC high-performance devices are experiencing widespread acceptance in fast-growing markets around the globe, particularly in high voltage DC/DC power conversion topologies such as LLC, and Phase Shifted Full Bridge, as well as AC/DC applications such as 6-switch SiC solutions replacing Vienna Rectifier and Totem Pole PFC. In the fast-growing market of EV motor drives, UnitedSiC (now Qorvo) SiC FETs' deliver industry-best performance, lowest RDS(on), with ratings at 650V (7mohm), 750V (6mohm), and 1200V (9mohm), and are quickly becoming the product of choice for EV power designers.
SiC FETs are also a major contributor to performance and reliability improvements, with overall system cost reduction in next-generation data centers. In addition, UnitedSiC provides important charging time and length of charge benefits for industrial vehicles. Finally, their superior efficiency ratings make the UnitedSiC products the perfect solution for solar array technology. Given this type of designer acceptance, it's clear that silicon carbide devices are becoming one of the key enablers in these fast-growing markets.
View products from Qorvo.
Power Semiconductors
Featured Content
Learn more today about the 750V UJ4C/SC and 1200V UF4C/SC SiC FETs
Learn more today about the UF3C SiC FETs, available in 4-Lead Kelvin Packages.