Qorvo is ready today with next-generation RF smarts and solutions to connect people, places, and things faster, further and more reliably. Qorvo partners with leading companies to create tomorrow's connected world using core RF products and engineering expertise. Qorvo provides higher performance in more power-efficient networks and devices, to connect and protect mission critical defense systems and emerging commercial and consumer applications. Qorvo is all around you – making a better, more connected world possible.
*Qorvo was formed in 2015, upon the merger of RFMD and TriQuint.
Qorvo Products
Switches
Front End Modules
Attenuators
Amplifiers
Power
Passives
Optoelectronic
Featured Products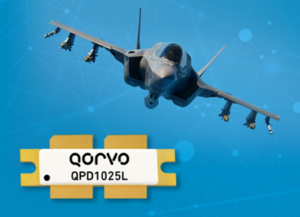 Today's advanced avionics and IFF applications demand the best performance. Available now from Richardson Electronics, Qorvo recently introduced the QPD1025L, an 1800 W (P 3dB ) discrete GaN on SiC HEMT that operates from 0.96 to 1.215 GHz. This industry-leading product offers input pre-match within the package resulting in ease of external board match and saving critical board space. Additional key features are:
Linear gain: 22.5 dB
Typical PAE(3dB):2%
Operating voltage: 65 V
CW and Pulse capable
For further information, please also see the Microwave Journal Article: 1.8 kW GaN Transistor for L-Band Avionics
Featured Articles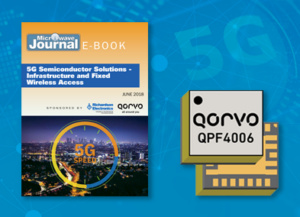 5G Semiconductor Solutions – Infrastructure and Fixed Wireless Access
Learn the latest 5G developments from infrastructure to fixed wireless access in this eBook, which includes information on market updates, technical trade-offs and critical technologies. Also, explore the latest products accelerating 5G developments, such as the QPF4006 from Qorvo. This 37 – 40.5 GHz GaN front end module combines a low noise high linearity LNA, a low insertion-loss high-isolation TR switch, and a high-gain high-efficiency multi-stage PA, ideal for 5G base stations.
Featured Videos from Qorvo