Qorvo (Nasdaq: QRVO) supplies innovative semiconductor solutions that make a better world possible. We combine product and technology leadership, systems-level expertise and global manufacturing scale to quickly solve our customers' most complex technical challenges. Qorvo serves diverse high-growth segments of large global markets, including consumer electronics, smart home/IoT, automotive, EVs, battery-powered appliances, network infrastructure, healthcare and aerospace/defense. Visit www.qorvo.com to learn how our diverse and innovative team is helping connect, protect and power our planet.
Qorvo Corporate Overview
Qorvo Products
Switches
Front End Modules
Attenuators
Amplifiers
Power
Passives
Optoelectronic
Evaluation Boards
Featured Products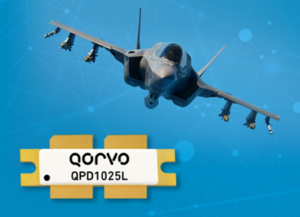 Today's advanced avionics and IFF applications demand the best performance. Available now from Richardson Electronics, Qorvo recently introduced the QPD1025L, an 1800 W (P 3dB ) discrete GaN on SiC HEMT that operates from 0.96 to 1.215 GHz. This industry-leading product offers input pre-match within the package resulting in ease of external board match and saving critical board space. Additional key features are:
Linear gain: 22.5 dB
Typical PAE(3dB):2%
Operating voltage: 65 V
CW and Pulse capable
For further information, please also see the Microwave Journal Article: 1.8 kW GaN Transistor for L-Band Avionics

Key Features
4.0 – 6.0 GHz operational bandwidth
LNA with integrated bypass mode
Ability to turn LNA and bypass mode OFF
Ultra low noise figure, 1.3dB at 5.5 GHz
19dB gain at 5.5 GHz
32dBm OIP3 at 5.5 GH
The QPL9098 is a high-linearity, ultra-low noise gain block amplifier with a bypass mode functionality integrated in the product. At 5.5 GHz, the amplifier typically provides 19 dB gain, +32 dBm OIP3, and 1.3 dB noise figure while drawing 68 mA current from a +4.2 V supply.
The QPL9098 is internally matched using a high performance E-pHEMT process and only requires four external components for operation from a single positive supply: an external RF choke and blocking/bypass capacitors. This low noise amplifier contains an internal active bias to maintain high performance over temperature.
The QPL9098 is optimized for the 4.0 - 6.0 GHz frequency band and is targeted for wireless infrastructure. The QPL9098 is packaged in a 2 x 2 mm DFN.

Key Features
Frequency Range: 28  – 38 GHz
PSAT (PIN = 13 dBm): >26 dBm
IM3 ( POUT/Tone = 20 dBm): -20 dBc
Small Signal Gain: >23 dB
Bias: CW, VD = +20 V, IDQ = 64 mA, VG = -2.5 V typ.
Die Dimensions: 1.65 x 0.67 x 0.05 mm
Notes:
1. Thermal resistance determined to the back of a 20 mil Cu-Mo carrier plate with eutectic die attach (85 C)
2. Refer to the following document GaN Device Channel Temperature, Thermal Resistance, and Reliability Estimates
Qorvo's QPA2225D is a wide band MMIC driver amplifier fabricated on Qorvo's production 0.15 um GaN on SiC process (QGaN15). Covering 28 – 38 GHz, the QPA2225D provides > 0.4 W of saturated output power with >23 dB of small-signal gain.
The QPA2225D MMIC dimensions are 1.65 x 0.67 x 0.05 mm. It can support a variety of operating conditions to best support system requirements. With good thermal properties, it can support a range of bias voltages.
The QPA2225D has DC blocking capacitors on both RF ports, which are matched to 50 ohms.
The QPA2225D is ideal for supporting communications and radar applications in both commercial and military markets.
Lead-free and RoHS compliant.
Featured Articles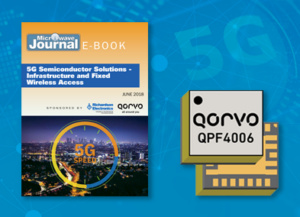 5G Semiconductor Solutions – Infrastructure and Fixed Wireless Access
Learn the latest 5G developments from infrastructure to fixed wireless access in this eBook, which includes information on market updates, technical trade-offs and critical technologies. Also, explore the latest products accelerating 5G developments, such as the QPF4006 from Qorvo. This 37 – 40.5 GHz GaN front end module combines a low noise high linearity LNA, a low insertion-loss high-isolation TR switch, and a high-gain high-efficiency multi-stage PA, ideal for 5G base stations.
Extremely High-Power GaN Devices
Featured Videos from Qorvo